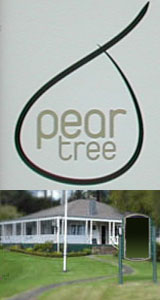 Restaurant with a history
Dining at the PearTree is a part of the unique Kerikeri lifestyle.
It's location+location+location at water's edge where yachts laze at their moorings, and jumping fish show off their talents by the jetty.
Whether it's a Pear Tree breakfast under the trees, or a dine and
wine on the balcony, soaking up the silvery Inlet moonlight, it's a great spot.
In the restaurant grounds, a
pear tree planted in 1819, is
believed to be the oldest fruit
tree in Aotearoa/New Zealand.

Phone 09 4078479 - 0pen all day usually.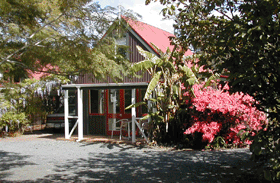 Entrance to Rewa's Village (Kaianga)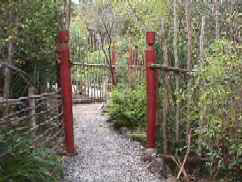 Open 7 days 10am - 5pm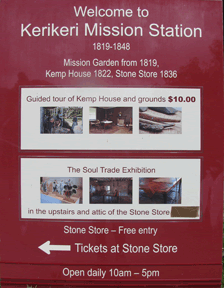 The Stone
Store Basin
Back to See & Do PgeBack to History Page

A

KA

the Kerikeri River Estuary, remains
as Kerikeri's heart, a constant reminder of
the town's heritage.
Early missionaries intended to name the
area Gloucestertown, but not surprisingly
perhaps, the name didn't stick.


A

single-lane bridge built during the
First World War, crossed the Kerikeri river
at the head of the tidal inlet, but this was
removed during the latter part of 2008.


W

ithout it's never-ending flow of traffic,
the Basin has become once again, the
quiet backwater that it always was.


S

ome other attractions are shown here,
which you might like to visit after seeing
the

Stone Store

,

St. James's Church

and


Kemp House.

(Aka The Mission Station)


Stone Store/Kemp House hours




Daily 10am - 5pm Nov - April
Daily 10am - 4pm May - Oct
Closed Christmas Day.





Kororipo Pa Site

A

t the time of the arrival of the first
European settlers in the early 1800's,
this was the sometime coastal Pa of
influential Ngapuhi chiefs,

Hongi Hika


and his second-in-command

Rewa

.
The pa, after probably centuries of use
as a fort was by this time, a quiet
unfortified village where some people
of Hongi Hika's and Rewa's sub-tribe
Ngai Tawake, were living peacefully.


B

y 1826

Maori had vacated Kororipo
and moved North to Whangaroa. In
1827 Hongi Hika died from an infected battle wound.
Between 1831 and 1838, Rewa and two
of Hongi Hika's sons, Hongi and Puru,
sold 13 acres (including the 6 acres of
the pa site) to Lay missionary James
Kemp, for the purpose of farming.


T

he walk

to the pa site is a pleasant
30 minutes or so round trip, under gum
trees and through regenerating native
bush. There is no charge.


I

t is an historic site

, administered by
the NZ Department of Conservation.